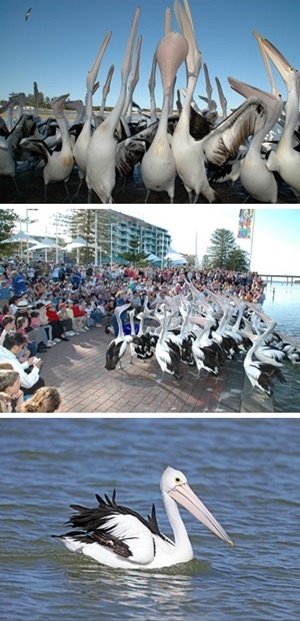 The Entrance Pelican Feeding
Central Coast Pelican Feeding
Central Coast Pelican Feeding
Please note that due to Covid-19, the daily pelican feeding has been cancelled until further notice.
Pelican Feeding is the Central Coast's most popular tourist attraction and operates 3.30pm daily, 365 days a year come rain, hail or shine.
The pelican feeding attracts tens of thousands of families back to The Entrance where they get an entertaining and educated commentary about the pelicans, bird and marine life and general information about the area.
Just over twenty years ago, the pelican feeding started by accident when staff from a local fish and chip shop would throw out scraps. It became such a ritual that whenever the staff were late in throwing their scraps out, the pelicans would cross the road and come up to the shop to be fed.
One of the main objectives of the pelican feed is to keep an eye on the pelican's medical conditions as many have hooks and lines tangles up in their gullets, wings and other parts of their body. The feed is a chance for the co-ordinator to assess their well being. It's certainly an amusing show to come and see.
At least 1 or 2 birds a week are removed from the water and sometimes the outcome is bad for the injured birds but most times its just a simple extraction of a hook and they are on their way.
The Entrance has now been internationally recognised as 'The Pelican Capital of Australia' and we want you to be part of it. So when you visit us at The Entrance be sure to wander down to the pelican pavilion on the foreshore for an experience you will treasure.